Located in Bedford, Iowa. Serving customers from all over the world!
The baby of our buisness and the reason we first opened our doors in 2006. People drive hours to bring their wild game to Zeb to make into deliciousness. We have also had meat shipped to us for us to process then ship back to the customer. They were outside of driving distance but that didn't keep their meat from making it to our door!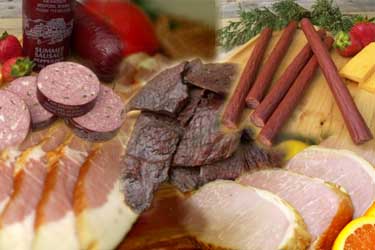 Not everyone who loves smoked meats are hunters. We have a large selection of custom smoked meats we sell at our store, at surrounding retailers, and also ship anywhere in the world!
We are the first Farm to Table Butcher Service in the state of Iowa! When you live in the part of the world known for the highest quality beef and pork known to mankind, not only should you take time to appreciate that, you should be feeding your family from it! Farmers, we save you time and hassle. Nonfamers - we can connect you to small farmers so you can fill your freezer with some of the world's finest meats!